History
Producer's Profile: Bode's Custom Cabinets Ltd.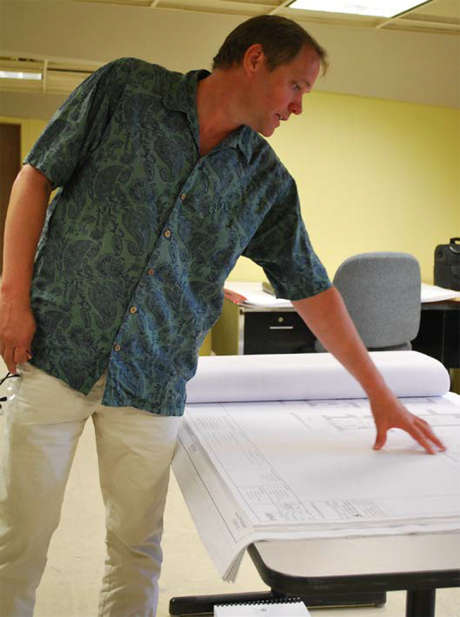 Mike Bode explains how Bode's Custom Cabinets sees projects from plans to installed finished product
Mike Bode has been making cabinets since the age of 19. At the age of 25, he went out on his own and Bode's Custom Cabinets has continued to grow ever since. He now employs a large team of craftsmen, union installers and support personnel – up to 50 during peak times. Bode's has recently relocated to the McNab-Braeside Industrial Park from Carlton Place and brings a unique and in-demand service to the County. Bode's custom millwork has included projects for hospitals, hotels, condos, retail stores, commercial office interiors, restaurants, bars, schools, universities and heritage buildings across eastern Ontario and as far away as Dallas, Texas.
After over 20 years in the commercial cabinet making business, Mike still says "every project is something new". Since Bode's receives plans from contractors and architects, wood choices are often very specific but, when possible, the company strives to use local wood. Although new to Renfrew County, Bode can already see that "the forest industry is very important here" and hopes to make connections with local wood suppliers who can supply his needs.
Bode's continues to grow and is currently renovating and expanding their office and millwork shop. Mike has many ideas for the future - along with a large pile of bids on various projects - which are sure to keep the company busy for years to come.
The next time you are standing in line at the bank or in a changing room at a retail clothing store, take note of the woodwork. Often overlooked, this craftsmanship is yet another example of a practical use of our renewable forest products that could have been made right here in the Ottawa Valley.
Bode's mandate is "to be easy to work with and deliver a world class product". The gallery on their website ( www.bodescabinets.com) is a testimonial in itself. Contractors and architects can get in touch with Mike and his team at the contact information below.

Available Products:
Custom manufacturing and installation of commercial:
- Cabinets
- Wall coverings/paneling
- Storage/shelving
- Office furniture
Contact: Bode's Custom Cabinets Ltd
49 Jackson Lane
Arnprior, ON
K7S 3G8
Phone: 613-622-1221
Fax: 613-622-1219
Email: info@bodescabinets.com
Website:www.bodescabinets.com