Chapman Mills Public School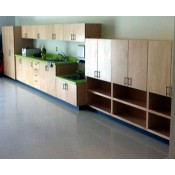 Chapman Mills School - Project completed April 2013.
Bode's fabricated and installed millwork for 21 standard classrooms, 12 Kindergarten classrooms, the reception areas, staff areas, gym storage, library and public areas for this newly built school.
The majoirty of millwork is maple veneer with a plywood core and solid maple edges, finished in natural water based laquer.
This is a LEEDS project
MORE VIEWS