3d Carved SAMBAT Sign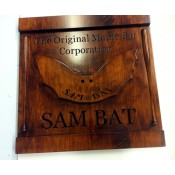 This sign was created for SAMBAT's corporate offices. SAMBAT are a major supplier of baseball bats to major league players. The sign material is hard maple.
The sign was created using our in-house 3d design software, carved using our small CNC, and hand finished at Bode's Cabinets.
Please contact Bode's to discover how our design and fabrication capabilities can enhance your business.
MORE VIEWS